Kingsrow International
New (5/30/2014): I have reformatted the endgame databases to make the files much smaller. The 2 though 8 pieces database are now 56GB. Kingsrow users that have the larger original databases can download the new database files using links at the program download page.
I have been working on an international draughts version of Kingsrow since 2006. The program is now mature and I am making it and the endgame databases available for purchase. This is the only complete 8-piece endgame database for international draughts that is available to the public, the product of 5.6 core-years and 9 calendar months of computing effort. Even without the large endgame databases, the Kingsrow program is very strong, with an excellent record against other programs under tournament conditions.
Purchasing Kingsrow with 8-piece db
The price for the program and 8-piece endgame database is $40. The endgame database files are downloaded from the Mega file server. These are very large files and you will need a reasonably fast internet connection. The install files for 2 through 8 pieces are 40GB. Downloading all the files can take a day or longer, depending on your internet speed and the loading on the file server. You can find links to the endgame database install files here: http://edgilbert.org/InternationalDraughts/endgame_database_downloads.htm
I can accept payment with a credit card or PayPal. To purchase, click the Buy Now button below. This will take you to a PayPal website where you can enter either your credit card or PayPal account info to complete the transaction. When I receive your payment I will send you an email with links for installing the program.
If you cannot use a credit card or PayPal, then Western Union is an alternative.
If you have questions, send me an email.
Program Information
Complete documentation for Kingsrow International can be found here: KingsrowIntlHelp_English.chm. It includes information to install and operate the program. The Features and Requirements sections are also replicated below.
Because you downloaded the file from the Internet, in order to view it you will need to tell Windows that it is safe to view. Save the file to a local drive, browse to it with Windows Explorer, right click on the filename, click Properties, click the Unblock button, then OK. You should now be able to view the document by double-clicking on the filename.
Features
Parallel search engine with selection from 1 to 8 search threads. One search thread can be used for each core in your computer. Each additional search thread increases the search speed.
Endgame databases with win, draw, and loss information for positions with up to 8 pieces.
Opening book containing approximately 2.4 million positions that are likely to be encountered in the first 30 plies of the game.
Both 32-bit and 64-bit program executables.
Language selections: English, Dutch, French, Italian, Portuguese, and Russian.
Analyze games interactively by moving through a game using the forward and backward toolbar commands.
Analyze games using either a normal search or an Allscores search which gives the search scores of all the moves.
Analyze multiple games automatically with results written to a text file.
Play games against the computer.
Play automated matches against other programs using the DamExchange protocol.
Transfer games and positions between the Windows clipboard and Kingsrow.
Load games and save games between PDN files and Kingsrow.
Per move or per game search time controls.
Multi-window user interface uses familiar Windows controls. It does not require any optional runtime environments such as .NET or additional .dlls and should run on any Windows installation.

Toolbar icons for frequently used functions.
Resizable text windows with font and background color selection.
Fully resizable board window with optional square numbers and selectable black/white orientation.
Flexible control of endgame databases including subset selection, enable/disable, and cache size setting.
Enable or disable saving settings on exit, reset all settings to defaults, reset only window setups to defaults, ...
Requirements
Window 7, 8, Vista, or XP, either 32-bit or 64-bit version.
2GB of RAM minimum, and more is recommended. With 32-bit versions of Windows you will probably be restricted to using at most 2GB for Kingsrow, even if your computer has as much as 4GB. With 64-bit versions of Windows there are no such restrictions.
Disk space requirements depend on database subsets installed.

2 through 7 pieces requires 4.7GB
2 through 8 pieces requires 55.6GB
Caveats
Here are some things that you should consider before purchasing.
Each purchased copy gives you two License Keys which allows you to run the program on two of your computers. A License Key enables the program to run on one particular PC. You can transfer a License Key to another computer but the program will not run without one.
It takes several minutes for the large endgame databases to be initialized at program startup before they can be used during a search. During this initialization time the program is fully functional, but the searches are not using the endgame databases.
Links
Kingsrow Screen Shots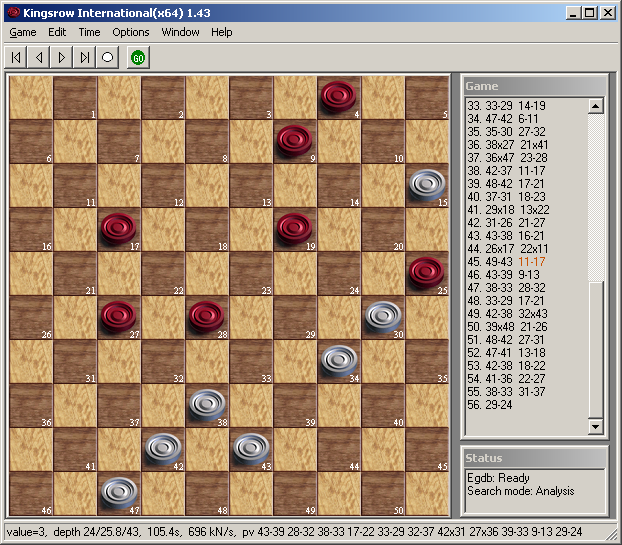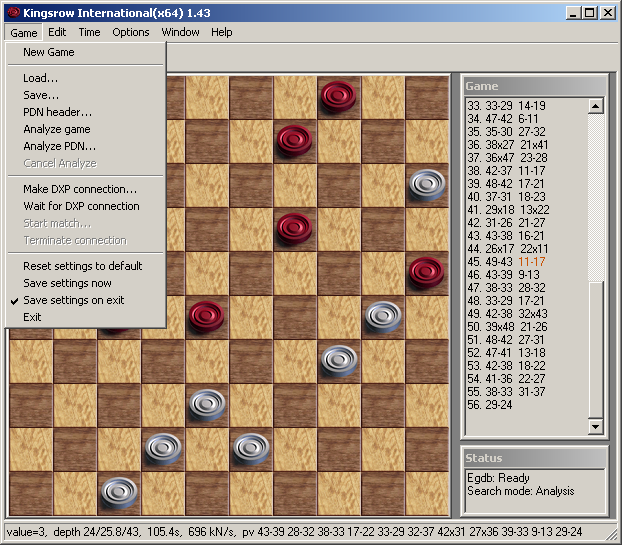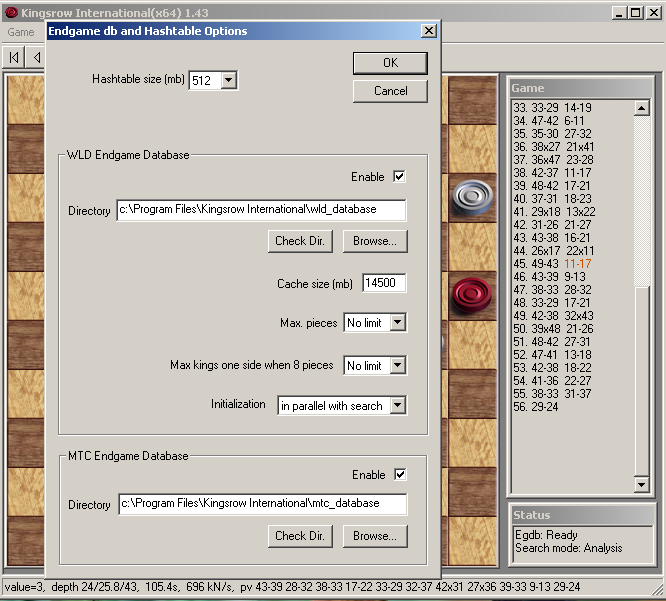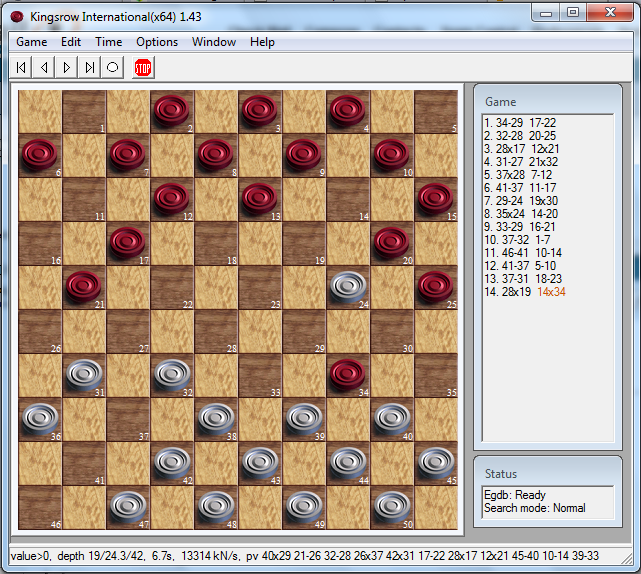 ---
Ed Gilbert
Last revised: December 11, 2016 .